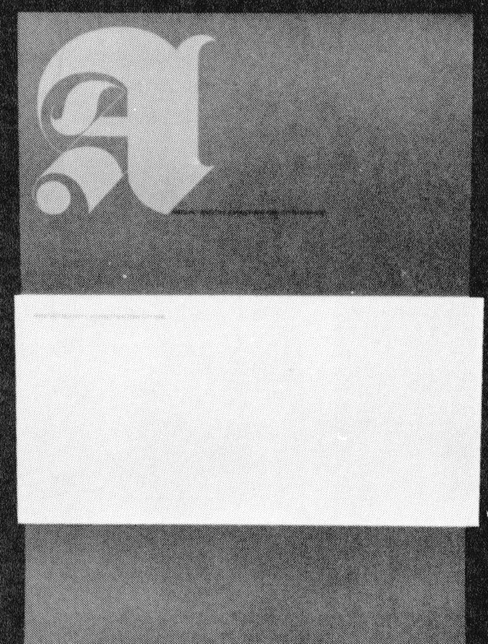 Letterhead for Annegret Beier
Not enough is known about Annegret Beier, who was born in Neisse, Germany in 1940 and came into adulthood, graduating from the State School of Arts and Crafts in Bremen and the State Academy of Art and Design in Düsseldorf. After freelancing as a designer for several publishing companies she relocated to Paris in 1963. Beier found work with Robert Delpire, the famed editor, publisher, curator, film producer, and graphic designer, where her career started to take off. In 1967 she moved to New York landing a job with Lubalin, Smith, Carnase Inc. After a period in NY she returned to Paris to work for Delpire once more.

As a holiday gift for clients of Lubalin, Smith, Carnase, Inc in 1973, Annegret Beier designed these labels and made the mulled wine itself.
In the Unit Editions excellent monograph on Herb Lubalin, Adrian Shaughnessy wrote of Beier, "In 1967, she turned up in New York and took a job at Lubalin, Smith, Carnase, Inc. According to the U&lc article, it was Beier who provided the incentive to open a Paris office:
'She developed a simultaneous love for LSC and a hatred for NYC. Her determination to return to Paris made it imperative for LSC to open an office there rather than to lose her services. She became the guiding light of Lubalin, Delpire et Cie.'

Shaughnessy continued, "So, rather than a grand plan to dominate the European design scene by opening an office in Paris, it appears that Lubalin was simply locking in the services of a designer he rated highly."
Beier's talent in graphic design were formidable. While working for Lubalin's satellite office, she developed creative designs for Air France's Le Méridien restaurants worldwide. A designer with a range of interests she created the production design for the play "Black Sun", by Antonin Artaud at LaMama in the East Village in 1970. She also developed unique and striking designs for a very elusive product: perfume. Each scent had unique packaging and branding, hinting at the mysterious, playful, or charming personalities within the product. Beier took her talent for the theatrical and applied it with sophistication to fragrances for Cacherel, a corporate client of Delpire's, beginning with Anaïs Anaïs in 1978.

A selection of wordmarks drawn by Anegret Beier for Lubalin, Delpire et Cie.